30 years since the establishment of diplomatic relations between Kazakhstan and the European Union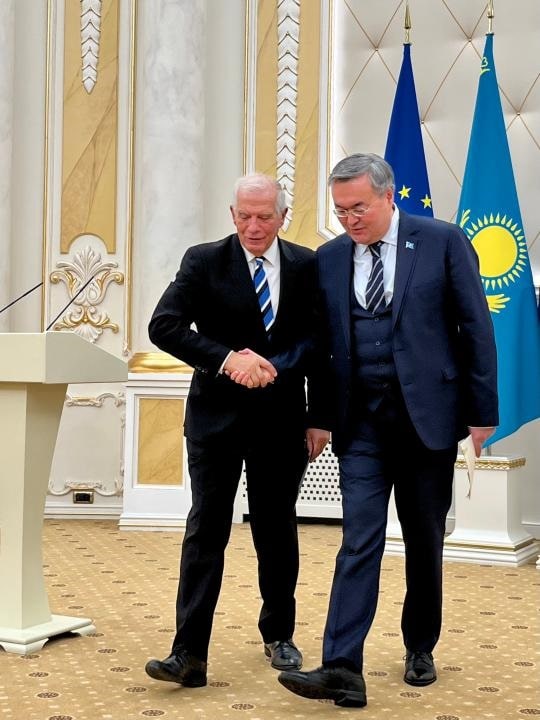 Today marks 30 years since the establishment of diplomatic relations between Kazakhstan and the European Union. Over the past three decades, we have managed to build a strong partnership based on mutual respect and trust.
From the signing of the Partnership and Cooperation Agreement in 1995 to the entry into force of the Enhanced Partnership and Cooperation Agreement (EPCA) in 2020, our dynamic relationship has come a long way.
The EPCA currently covers 29 broad areas of cooperation ranging from economics, trade and investment to cooperation in aviation, education and research, civil society and human rights. Kazakhstan and the EU remain firmly committed to the further development and strengthening of mutually beneficial bilateral relations with a view to the full implementation of the EPCA.
The EU reiterates its full support for large-scale political and economic reforms in Kazakhstan to advance the vision of a "Fair Kazakhstan", as well as the country's commitment to a full and transparent investigation into the January 2022 events.
The recently signed Memorandum of Understanding on strategic partnerships in the value chains of sustainable raw materials, batteries and green hydrogen will be critical to the transition to green and digital technologies. We look forward to expanding high-level contacts and deepening parliamentary cooperation, strengthening business and people-to-people contacts, and continuing dialogue on human rights and the rule of law.
In the current geopolitical context, we reaffirm our strong commitment to the UN Charter, international law and the principles of sovereignty and territorial integrity. We emphasize the importance of maintaining peace and stability, as well as resolving disputes through diplomacy.
We reaffirm our commitment to building a solid and forward-looking framework for cooperation between the EU and Central Asia, and to strengthening the regional dialogue in Central Asia, which is the key to prosperity, stability and sustainable development. As a next step, we look forward to hosting the EU-Central Asia Economic Forum in Almaty, Kazakhstan in 2023.
In this significant year for our relations, we look with confidence to the future of our increasingly close and multifaceted cooperation. We are determined to promote it for the benefit of the people of the European Union and Kazakhstan, and for greater regional stability and prosperity.
Source: gov.kz